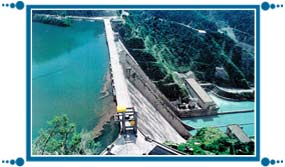 Location:
116 km from Chandigarh
Highlights:
world's highest straight gravity dam
Located at a distance of about 116 kms from Chandigarh, Bhakra Nangal dam is the world's highest straight gravity dam, constructed across the River Satluj. The hydroelectric station positioned here not just generates power for Chandigarh, but also for Delhi and other cities. The construction work of Bhakra Nangal dam began in 1948 and got completed in 1963. Read on to know more about Bhakra Nangal Dam near Chandigarh…
Chandigarh Bhakra Nangal dam led to the creation of Gobind Sagar, a 40 sq km reservoir. It has been named after the tenth Guru of Sikhs, Guru Gobind Singh. A major attraction of the place is that there is an adequate provision for accommodation and restaurant over here. For tourists, boating facilities are also available. If you are searching for serenity, then the Gobind Sagar Lake at Bhakra is just the apt place for you. An added attraction is the underground tunnel that lies underneath the bed of river Sutlej.