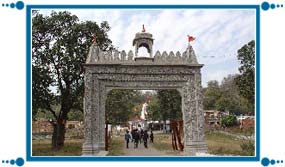 Location:
15 kms from the city on the Chandigarh - Kalka road
Dedicated to:
Chandi, the goddess of power
Chandigarh chandi mandir is a very famous temple located at a distance of about 15 kms from the city of gardens. It is situated about 10 kms away from the Mansa Devi Shrine. Chandi Mandir is dedicated to Chandi, the goddess of power. Chandi Devi temple near Chandigarh, India is basically a Siddh Peeth, a place where wishes are believed to come true. The city of Chandigarh was named after this temple. During the festivity of Navratras, thousands of people visit this temple. When it comes to Chandigarh excursions, visiting the Chandi Devi mandir is like a must.